Here is a writing idea from ESL instructor and education blogger Larry Ferlazzo that I would like to try here. Sadamu, Mata and others (whom I have not heard from recently) have posting privileges and can post either directly or as a comment to this post. If you are a visitor or a student I directed here but who has not posted, then you can post in comments. If you participate regularly by posting in comments and would like to be a regular contributor, we can add you.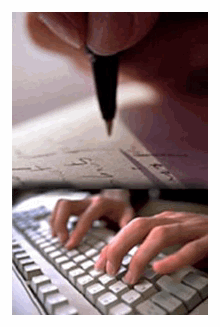 Alternately, I can open a Blogging English "branch" on Tumblr for anyone who wants to post (but no spam). In the meantime, try this exercise. It can be very short or longer. Larry writes (and includes and example at the end),
I've previously posted about research discussing the value of students sharing what is happening in their lives (see
The Value Of Sharing Positive Events
) and have written on this blog and in my books how I apply this finding in my teaching, primarily in my English Language Learner classes.
I have students write about two positive events in the week and why they felt they were positive, and one not-so-positive event and what they could have done to make it better. They share it... Not only does it help build a positive classroom atmosphere, it provides an opportunity to write for an authentic audience and it helps me learn what's going on in students' lives..
I thought readers might find it useful to see the model I use. I'll print it in the body of this post, and you can also download it as a student handout
here
that you can modify. Here's the content:
Mr. Ferlazzo's Journal, Sept. 7, 2012
Here are two good things that happened to me this week:
I really enjoyed school starting this week. I love my classes and all my students because they are all hard-working and smart.

I had a great time playing basketball on Tuesday night. I scored the game-winning shot, and everybody on the team wanted to pass the ball to me.

Here is one not-so-good thing that happened to me this week:
A student dropped gum on the rug in my room, and I was not happy that I had to scrape it off. I could have reminded students to throw gum in the garbage.
Student Handout For Simple Journal-Writing