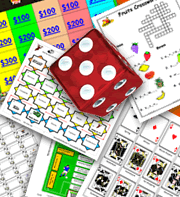 …because all work (study) and no play makes a dull day. Games are not just for kids either. None of us is ever too old to play!
The ESL Games World web site has a variety of interactive games and exercises for total ESL fun. Free games here for kids, teachers, classrooms, in grammar, vocabulary, pronunciation, math and more include: Snakes and Ladders, Hangman, Spelling games, Wheel of Fortune, TV Games (Betting Game), Mazes, Memory Games, Matching exercises, Sequencing exercises, Picture Quizzes and many other games. Follow the links on the website. Printed PowerPoint and board games too.
Check them out on Free ESL Fun Games & Interactive Exercises Online…and the rest of these games pages for learning and practicing English.